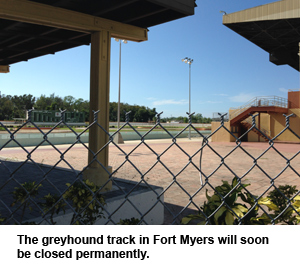 Lawmakers chose to include pointed language in the amendment that resonated with voters, saying the "humane treatment of animals is a fundamental value of the people of the State of Florida."

Some 7,000 greyhounds are needed to support the state's 11 tracks, where dogs only last about two years before being put up for adoption.

"Because of the decisions of millions of Florida voters thousands of dogs will be spared the pain and suffering that is inherent in the greyhound racing industry," Kitty Block, acting president of the Humane Society, told the Orlando Sentinel.

Only in 2013 did Florida start requiring records of deaths at a track or racing kennel, with 438 dog deaths reported between May 31, 2013 and Sept. 30, 2017, according to the Tampa Bay Times. There have been over 400 cases in the last decade where drug tests showed dogs had been given cocaine.

The only remaining dog tracks are in Alabama, Arkansas, Iowa, Texas and West Virginia.

After Florida's votes were counted, I went over to the Naples-Fort Myers Greyhound Track to see how the news was being received. For starters, the staff refers to dog racing as a "sport," although I, for one, don't see it that way.

Workers were busy preparing for next month's new season, which will go on as planned. The track and grandstand look as if they have seen better days—which is true, since greyhound racing has been in decline for several years. Still, over $87 million was wagered in Florida in the last fiscal year.

A uniformed employee, who identified himself only as Joe, insisted that voters got it wrong. The dogs are treated very well, he said, just like any other pro athlete. "Why," he asked, "would an owner mistreat a dog if his livelihood depends on the animal performing well?"

I told Joe maybe it was he who got it wrong. Greyhounds engage in what could be called an athletic endeavor but they are hardly willing professionals. As for the owners, it's undoubtedly true that they want to protect their property and their chances of winning—but drugging dogs is abusive, and pushing them beyond natural limits is cruel.

"It used to be," Joe explained, "if a dog hurt its leg during a race they'd just take it behind the building over there and shoot it in the head. We don't do that kind of thing anymore."

Good to know. What's even better: voters here in Florida decided that it won't ever have to come to that again.

(c) Peter Funt. Distributed by Cagle syndicate.