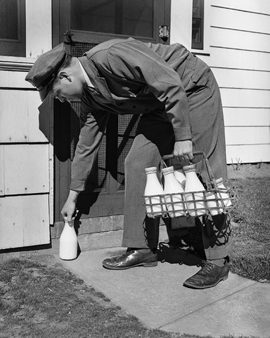 A few hours later, a man named Pete would chug up our driveway in the Parkway delivery truck and carry a sturdy box — always a box, never a bag — directly to our kitchen. Wearing his long white grocery store apron, Pete would just leave the box on the table. He put anything perishable in the refrigerator.

This twice-weekly ritual came to mind the other day as I read a long article in The New York Times about the challenges of home delivery. It noted that "delivering food requires military precision." The report was accompanied by many, many photos underscoring the enormous task of delivering perishables to people's homes.

It also reminded me of the twice-a-week deliveries we received from Gene in his Emmadine Farms milk truck. There was no need to phone ahead. Gene just showed up every Monday and Thursday in a step van that had a picture of a cow on each side. Water dripped out of the truck, even in winter, as the ice used to keep things cool melted.

The most intriguing part, at least to my pre-teenage eyes, was that the truck had no seat. Gene drove it while standing up. And he always wore galoshes. Even in summer, he'd wear unbuckled snow boots (and Bermuda shorts) as he toted his metal carrier with milk, cream and butter straight to our fridge.

Of course this marvelous home-delivery system wasn't limited to groceries. In fact, back in the pre-Amazon days just about everything you needed magically showed up at the door.

When one of us was sick, Dr. Victor Landes drove over in his dark-blue sedan, wearing the requisite suit and tie and carrying his little black bag. I was always amazed at how the contents of an entire doctor's office seemed to fit into that bag.

If we needed medicine, he would phone a prescription to Robbins Pharmacy and a few hours later one of the high school students who worked there part-time would drive over with the order.

Every morning James Gray delivered The New York Herald Tribune in his blue VW bus. And each afternoon a woman in a beat-up station wagon delivered the local paper, The Citizen Register. I never caught her name because she managed to toss the paper neatly onto the driveway without ever slowing down.

Oil to heat our home in winter was delivered in a smelly truck by the Maui Oil Company. If Mom was having special guests, we'd get a delivery of flowers from Swanson Florist. On Saturday, we often got a delivery of lumber and building supplies from Gerstein's hardware store.

And yes, even back then a highlight was the periodic, and tantalizingly unpredictable, arrival of the United Parcel Service truck. Oddly, while so many things have changed, the U.P.S. truck looked exactly the same back then as it does today — except instead of bringing packages from an Amazon warehouse, it carried boxes from Sears or Bonwit Teller or some other department store.

Really, I had forgotten that our existence was so quaint — and convenient. It's beginning to meld in my memory with scenes from "The Music Man" about the highly anticipated visits of the Wells Fargo wagon by folks in River City, Iowa.

I love home delivery, and I'm a big fan of Amazon's one-click shopping. I usually get at least one book a week, and we just received a replacement steam iron and a three-pack of undershorts. Life is good.

But it's hardly new or novel. As I recall, the postman always rang twice, but Pete from Parkway just let himself in through the kitchen door.

(c) Peter Funt. This column originally appeared in The New York Times.