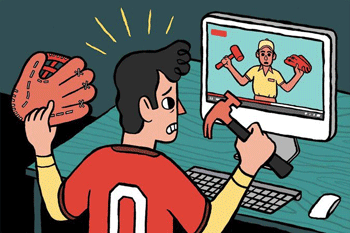 Denny Whiteside of Rawlings stars in a video, "What Not to Do When Breaking In a Baseball Glove." In five minutes he manages only two points: Don't over-oil a baseball glove and never put a glove in a microwave. He has had nearly 200,000 views.

Next, I watched a 10-minute video, "How to Break In Your Glove With a Microwave." The instructor, Martin Solis, explains that after blasting his mitt for several minutes in a microwave he hits it with a mallet. (He says he watched someone else's YouTube video on how to make a mallet by drilling a hole in a baseball and attaching a handle.) He, too, has more than 200,000 views.

This led me to "How to Break In a New Glove," featuring the Cincinnati Reds second baseman Brandon Phillips. To my surprise, he starts off saying he takes his gloves to Shigeaki Aso, and the remainder of this 200,000-view video consists of Aso pounding the daylights out of Phillips's glove, with a 10-pound iron weight.

Unlike Phillips, Torii Hunter gives plenty of personal insight in a YouTube video on glove care. Hunter, a Minnesota Twins outfielder, says the trick is to put it in a Jacuzzi before zapping it in the microwave. If, he explains, the glove drops a ball during a game, nuke it for another 30 seconds.

Kevin of GloveRelace.com has a seven-minute video that can be summarized thus: Oil glove, tie it up, place it in a plastic bag, leave the bag in your car on a hot day for an hour. Repeat every day for two weeks.

BaseballKidd15 spends more than nine minutes demonstrating his "Hot Water Method." The picture is shaky because he is holding the camera with one hand while pouring water with the other. As he douses his glove, others are heard off-screen, clamoring to use the bathroom for something besides baseball.

I was impressed to see that NikeTalk313's tutorial has had more than 1.2 million views. Turns out my search had accidentally directed me to "How to Break In to a Car Using a Tennis Ball." (The process involves burning a hole in a tennis ball with a hot screwdriver, then placing the ball over the keyhole on the car door and squeezing until air pressure from the ball pops the lock open.)

Lesson: YouTube is like the Hotel California — tutorials check in but never leave. NikeTalk313's instructions have little value now that automakers have built more secure locks.

After nearly two hours of viewing, I've learned that: (a) it appears no certification is necessary to teach on YouTube; (b) although baseball is the national pastime, no one knows how to break in a glove; and (c) if you accidentally lock a new mitt in an old car, you might be able to use a tennis ball to break in.

© Peter Funt. This column first appeared in The New York Times.