Welcome to the Candid Camera online store...
For generations, Candid Camera has made people smile.
Now, you can join the Candid Camera Crew with logo jackets, shirts, and caps - plus a wide selection of great videos and books.

Tips for Shoppers
On the Candid Camera Site

By Janet Mattson
Product Coordinator

The most frequent question we get is, "What's the best DVD for my family?"

The answer depends on your age and your tastes, because our library covers over eight different decades of television. Fans of Allen's vintage material will want to pick up the "Greatest Moments" plus the "Best of the 60s," volumes 1 & 2.

For the newer fans, "Best of Today" volumes 1 & 2 has smiles that are right up to date. Families can also find a great bargain in "The Funt Family Collection," specially priced at $9.95. This DVD contains two hourlong shows: "Biggest Surprises" and "Pets & Animals."

Serious collectors and fans will be happy to know that Candid Camera offers a re-mastered boxed set, featuring 10 DVDs and over 23 hours of smiles. Best of all, the set is now priced at just $59.95 for the complete collection. Each DVD is also available individually, but the full set is a great bargain — a savings of $81.

The boxed set plus a Candid Camera t-shirt or cap makes a great gift.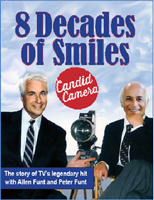 Don't overlook our big souvenir book, "8 Decades of Smiles." It's filled with behind-the-scenes stories and photos from Candid Camera's long and historic run.

We're also pleased to offer Peter's book, "Cautiously Optimistic," which has received great reviews. It's available with free shipping. And on our shelf is Allen's own story, "Candidly, Allen Funt," in its original hardcover format.

Please write to me with your questions as well as with feedback about our Merchandise Section. Email: Comments@CandidCamera.com.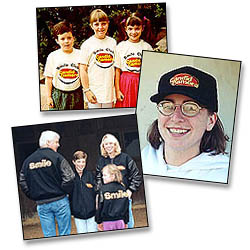 Candid Camera's 10-DVD Set
Buy the Entire Set and Save, or Buy Single Volumes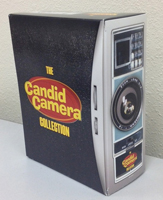 The ultimate set for Candid Camera fans has been remastered to honor the show's birthday, and it's available at the special anniversary price of $59.95. Each of the 10 volumes is also available for purchase individually.
The set begins with the two-hour Greatest Moments program, hosted by Peter Funt. There's a bonus disc containing Candid Camera's debut on NBC in 1949. Then, full programs are selected from Candid Camera's library to represent the Best of the 60s, 70s, 80s, 90s and Today. Other bonus features include Peter's look behind-the-scenes at each decade. In all, the remarkable set contains over 23 hours of smiles from TV's original reality program!
For more details and to purchase your set,
click here
.
Click Here
to return to the homepage.