Candid Camera's 10-DVD Set
Buy the Entire Set and Save, or Buy Single Volumes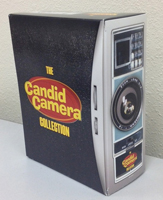 The ultimate set for Candid Camera fans has been remastered to honor the show's birthday, and it's available at the special anniversary price of $59.95. Each of the 10 volumes is also available for purchase individually.
The set begins with the two-hour Greatest Moments program, hosted by Peter Funt. There's a bonus disc containing Candid Camera's debut on NBC in 1949. Then, full programs are selected from Candid Camera's library to represent the Best of the 60s, 70s, 80s, 90s and Today. Other bonus features include Peter's look behind-the-scenes at each decade. In all, the remarkable set contains over 23 hours of smiles from TV's original reality program!
For more details and to purchase your set,
click here
.
Click Here
to return to the homepage.