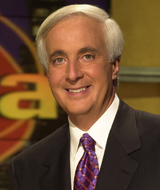 Peter Funt is a TV host, speaker and columnist – continuing the Funt Family tradition of making people smile, while examining the human condition.
Peter has hosted over 200 episodes of Candid Camera since taking over for his father, Allen, including an acclaimed series run on CBS. Most recently he partnered with Mayim Bialik to present a new Candid Camera series on TV Land.
Peter writes frequent op-eds for The Wall Street Journal and The New York Times as well as his weekly column, distributed by the Cagle Syndicate. His book, "Cautiously Optimistic" contains dozens of his best columns and essays. His writing and public appearances contain the same pointed social observations that have made Candid Camera so popular since Allen launched it on radio (Candid Microphone) back in 1947.
Earlier in his career, Peter was editor and publisher of the television magazine On Cable. He authored the book "Gotcha!" for Grosset & Dunlap on the lost art of practical joking. Peter's essay on the evolution of television is included in "The Story of American Business," published in 2009 by Harvard Business Press.
Peter is a frequent speaker before groups of all kinds, using the vast Candid Camera library to bring his points to life. His newest presentation, "Eight Decades of Smiles," draws upon decades of people-watching to make audiences think and LOL.
In addition to his hidden-camera work, Peter Funt has produced and hosted TV specials on the Arts & Entertainment and Lifetime cable networks. He also spent five years as an editor and reporter with ABC News in New York.
Peter also follows in his father's footsteps as President of the Laughter Therapy Foundation, a non-profit organization started by Allen Funt in 1982. Using the Candid Camera library, Laughter Therapy sends special videos, at no charge, to critically ill people throughout the U.S.
Peter received his degree in journalism from the University of Denver. In 2010 he returned to the Denver campus to be honored as a Master Scholar in Arts and Humanities, and in 2011 delivered the keynote at the annual Alumni Symposium.
He is a past winner of the Silurian's Award for radio news reporting, for his ABC News coverage of racial disturbances in Asbury Park, N.J., and a recipient of the 2001 Angel Award for television.
Peter is founder of the Monterey County Young Journalists program in California, which provides hands-on training for high school students pursuing careers in news. He also inaugurated the Courtroom Journalism competition in Monterey County in conjunction with the Lyceum Organization, and has conducted a similar statewide event for the Constitutional Rights Foundation in Los Angeles.
Peter resides in Central California with his wife, Amy, and two children, Stephanie and Danny. His favorite pastimes are baseball, golf, tennis and people-watching.