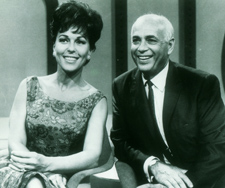 Bess Myerson, Candid Camera's co-host during the mid-1960s, died Dec. 14 at her home in Santa Monica, Calif. She was 90.

Myerson was Allen Funt's partner on the CBS-TV series for the 1966-67 season.

"My father and Bess became close friends," recalls Peter Funt. "As a former Miss America, she brought glamour to the show, which was appropriate because her year marked the first season in color. But she was also a very smart lady, who later became a key player in New York City government."

As reported by the Los Angeles Times: Myerson was an aspiring pianist in 1945 when she became the first Jewish Miss America and a symbol of ethnic pride for Jews emerging from the brutal realities of World War II. As consumer affairs commissioner in the administration of New York Mayor John Lindsay, she successfully crusaded for such reforms as unit pricing and open dating of perishable foods.

Later, she was forced to resign as Mayor Ed Koch's cultural affairs commissioner when she was accused of bribery and conspiracy. She was acquitted of all charges, but she never returned to public life. She overcame ovarian cancer, a stroke and the breakup of two marriages while struggling with issues of family and career — years before the women's movement made such balancing acts acceptable.

Read the full obituary here.

.